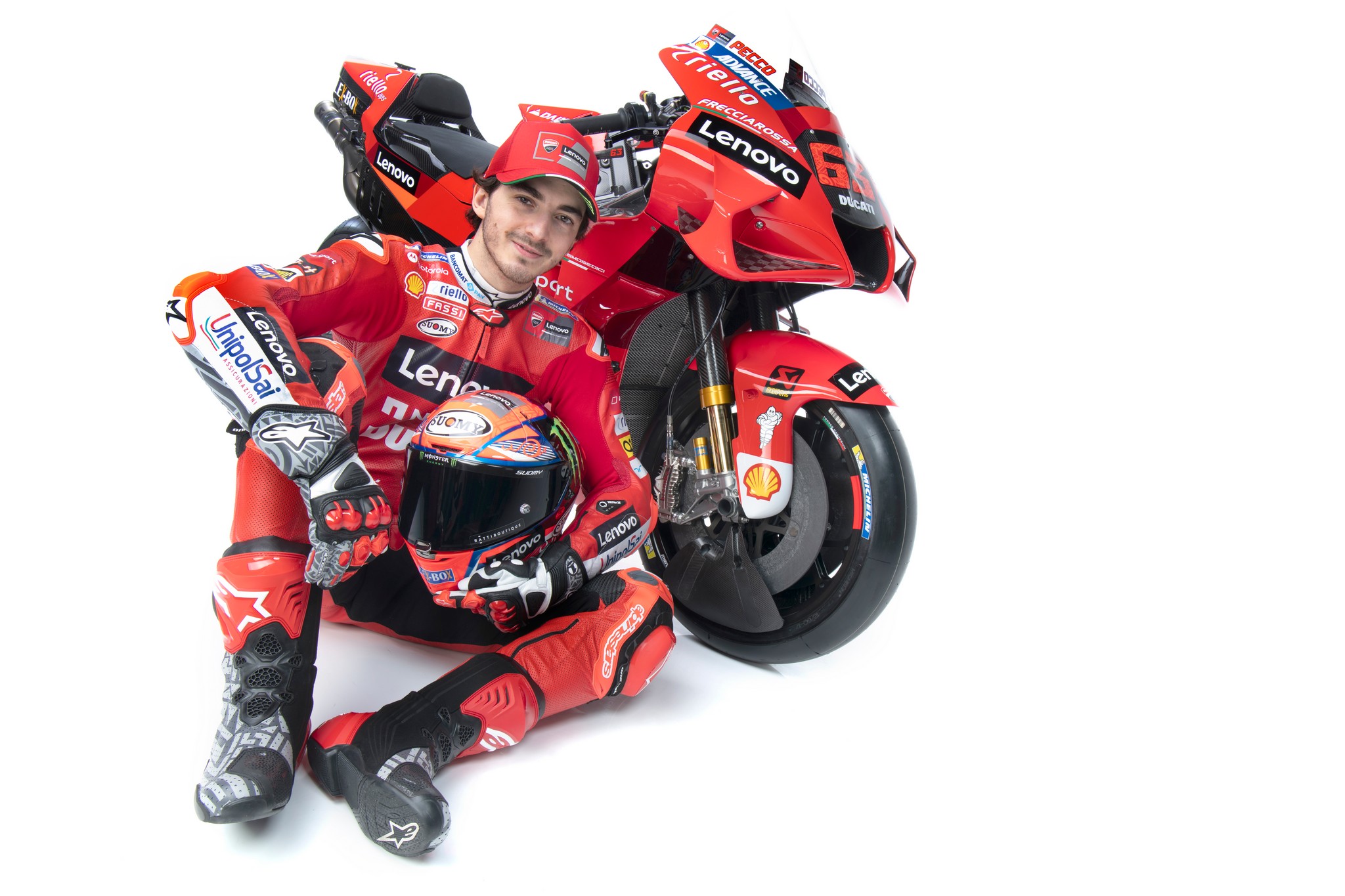 Quelle: Ducati-Press
Francesco "Pecco" Bagnaia
In his second MotoGP season with the Pramac Racing Team's Ducati Desmosedici GP, Francesco "Pecco" Bagnaia was able to fight for the top positions in the first rounds of the 2020 World Championship. Stopped by a nasty crash in free practice at the Czech GP in Brno that cost him a fractured right tibia, the rider from Turin was forced to skip three races before returning for the double-header at the Misano Adriatico circuit in September. At the Lenovo Grand Prix of San Marino and Rimini Riviera, Pecco, although still recovering from the injury, scored his first podium in MotoGP by finishing second and coming close to victory in the following round at his home track. Thanks to his strong performances in the 2020 season, Pecco was promoted to the official Ducati team for 2021.

Born in Turin on January 14, 1997, Bagnaia took the first steps of his motorcycle racing career in minimoto racing. Crowned MiniGP European Champion in 2009, Pecco was soon recruited by the VR46 Riders' Academy. After finishing second in the 125cc PreGP Championship, the Turin-based rider competed in the Spanish Championship in 2011 and 2012 in the 125cc and Moto3 categories, respectively, finishing both seasons with a win and third overall. Ready for the world stage, Pecco made his Moto3 World Championship debut in 2013 with Team Italia before joining the newly formed SKY Racing Team VR46 the following year. In 2015, with Team Aspar, Bagnaia scored his first podium in the lightweight class, finishing third at the French GP at Le Mans and battling for the podium on several other occasions. 2016 also saw his first World Championship win at Assen, and with six podiums (including two wins) he finished his third season in Moto3 in fourth place overall with 145 points.

In 2017, Bagnaia moved to Moto2 with Sky Racing Team VR46 and was named Best Rookie of the Year, finishing his first season in the category with four podiums. 2018 proved to be the defining year for the young rider from Piedmont, who won the Moto2 World Championship title and promotion to MotoGP for the following year on the Pramac Racing Team's Desmosedici GP, with eight victories and 12 podiums in total.

After an initial part of the season dedicated to adapting to the new category, Pecco began to shine at the end of 2019, finishing an excellent fourth at the Australian GP. With the Ducati of the Italian satellite team, he also managed to take his first podium in MotoGP in 2020 and fight for the top positions on several other occasions. Thanks to his determination and talent, Pecco has earned access to the Ducati factory team for the 2021 season, where he will aim high in his third year in the premier class.


Personal data:
Age: 23 (born on January 14, 1997)
Birthplace: Turin, Italy
Race statistics:
Motorcycle: Ducati Desmosedici GP21
Race number: 63