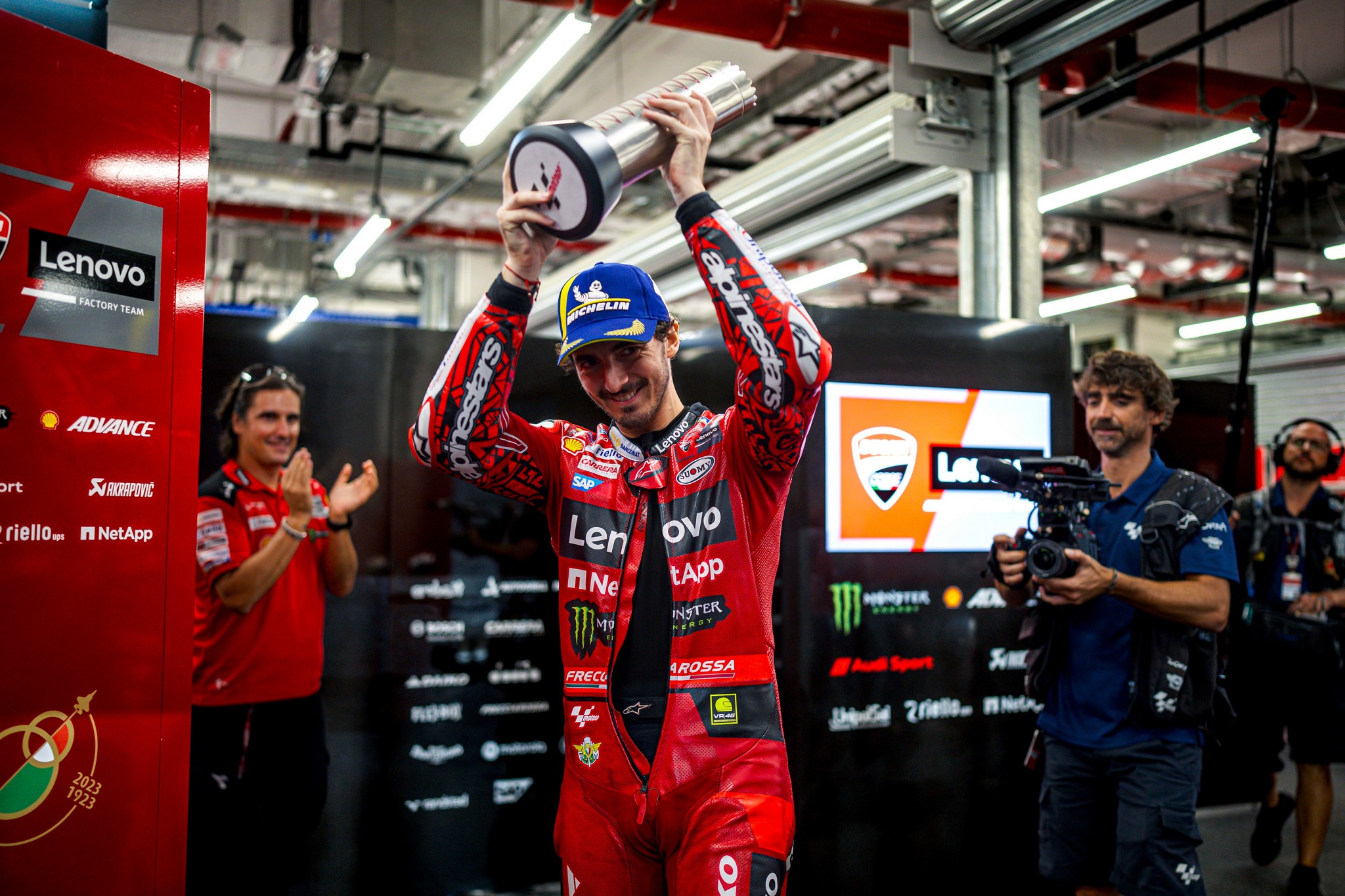 MotoGP in Quatar
19.11.2023

Sprint
Francesco Bagnaia (Ducati Lenovo Team) took the chequered flag in fifth place in the 11-lap Qatar GP Sprint race, held this evening at the Lusail International Circuit on the outskirts of Doha.
Starting from row 2 of the grid after setting P4 in qualifying – in which six Ducatis locked out the first two rows – Bagnaia found himself boxed in as the riders went into Turn 1, losing out to Jorge Martin (Pramac Racing) who had qualified alongside. Pecco was able to briefly put his Desmosedici in front of his title rival on the opening lap before Martin elbowed his way past and forced him slightly wide, which meant he was also overtaken for fourth by Fabio Di Giannantonio (Gresini Racing).
Martin went on to win ahead of Di Giannantonio and poleman Luca Marini (VR46 Racing), with Alex Marquez finishing ahead of Bagnaia. The gap between the two title contenders is now 7 points in Pecco's favour, with tomorrow's GP of Qatar and the two races at Valencia still to come.
It was a very unfortunate race for his teammate Enea Bastianini. After he qualified 15th position, Enea was caught up in an incident with Aprilia riders Espargarò and Oliveira and he eventually rejoined the race at the back of the field to end the Sprint in twentieth place.
Francesco Bagnaia (#1 Ducati Lenovo Team) – 5th
"All weekend we worked well in one way without touching anything on the bike, today in the race I didn't have the same feeling when it was important to do a good result, the only thing that we changed were the tyres, so it was a bit of a shame. We were just unlucky to have this situation in the race; I couldn't push hard today, and I didn't have traction. We will try to do better tomorrow and try to have more luck in the situation with what we will have in the race also because my pace is good enough to think about the victory. It was good today so it will be good tomorrow too. We know we are strong, it's a shame to lose seven points like this but every now and then it can happen."
Enea Bastianini (#23 Ducati Lenovo Team) – 20th
"It wasn't our lucky day; obviously I was hoping for something more. Starting immediately this morning with Lecuona in Q1 and then in the afternoon with the crash of Espargarò and Oliveira which I couldn't avoid, that's just the way it went. Oliveira braked quite hard and those in front a bit too early so he couldn't avoid contact with Aleix, and I was behind. I still managed to get the bike upright again and continue. I wanted to restart, and I lapped strongly, managing to do some laps in 1'53 so I'm happy with my pace but tomorrow we must make a step forward in terms of grip, especially edge grip, it seems like it's giving us a bit of bother here."
Race
Francesco Bagnaia took a major step forward towards retaining his MotoGP world title at the Lusail International Circuit when he finished runner-up to Fabio Di Giannantonio (Gresini Racing) in this evening's Grand Prix of Qatar. With his chief rival Jorge Martin (Pramac Racing) finishing in tenth place, Bagnaia increases his lead over the Spaniard to 21 points, with the Valencia GP finale still to come.
Pecco got an outstanding start from P4 on the second row of the grid to take the holeshot into the first corner. He then pulled out a comfortable lead by the mid-point of the 22-lap race, as Martin got out of shape at the start and slipped down the field. Bagnaia looked to be heading comfortably towards another win until Di Giannantonio caught him and put him under pressure.
The Gresini Racing man clearly had a superior pace and passed Pecco on lap 19, but as they braked for Turn 1 Bagnaia was sucked into Di Giannatonio's slipstream and almost lost control of his Desmosedici machine. Pecco went wide but did not lose too much time to third-placed Luca Marini (VR46 Racing) and he was able to finish second at the chequered flag. For Bagnaia, this is it's 14th podium in the premier class this season.
Enea Bastinianini had a great run from fifteenth place on the grid to finish eighth. The Rimini rider's pace in the second half of the race was exceptional, and he twice set the fastest lap, establishing a new record in 1'52.978 on the final lap. Enea also helped teammate Bagnaia as he passed Martin for ninth place on lap 18.
Francesco Bagnaia (#1 Ducati Lenovo Team) – 2nd
"This is a fantastic result; it means we can arrive at Valencia with a bit of a gap in the championship. It will not be easy because 21 points are not enough to relax but we are happy with the work done, I was expecting this pace yesterday, but I wasn't in the position to do it. We managed to do a great start and I had the possibility to show my pace which was incredible, the only thing was the mistake in Turn 1 when I got sucked by the slipstream of Fabio, it was a scary moment for sure and I lost a lot of time. I was lucky because with the pace we made, I had a big gap. I wanted to win, it was the only result for me, but I didn't expect this amount of suction and I almost lost it. I think I was able to fight for this win, but second position is a really good result in any case."
Enea Bastianini (#23 Ducati Lenovo Team) – 8th
"My race was tough especially at the start because it was very difficult for me to overtake the other riders and to arrive at my pace, but when the pace came in the middle of the race, I pushed a lot to close the gap from the other riders. I was really fast especially in the last five laps, when my feeling with the bike was amazing and I pushed really hard. I'm very happy about this but not about the weekend in general because it was difficult, and my speed arrived very late compared to the other races. The main problem was on Friday when I didn't get into Q2 because of a yellow flag and also on Saturday, but my overall pace was not fast like the other riders. It came today but it was too late."
The twentieth and final round of the MotoGP World Championship – the Valencia Grand Prix – will be held in one week's time at Cheste's Ricardo Tormo Circuit from 24-26 November.
Race results
| Pos. | Nr. | Driver | Team | Bike | Time |
| --- | --- | --- | --- | --- | --- |
| 1 | 49 | F. Di Giannantonio | | | 41:43.6540 |
| 2 | 1 | F. Bagnaia | | | +2.734 |
| 3 | 10 | L. Marini | | | +4.408 |
| 4 | 12 | M. Viñales | | | +4.488 |
| 5 | 33 | B. Binder | | | +7.246 |
| 6 | 73 | A. Marquez | | | +7.620 |
| 7 | 20 | F. Quartararo | | | +7.828 |
| 8 | 23 | E. Bastianini | | | +8.239 |
| 9 | 43 | J. Miller | | | +11.509 |
| 10 | 89 | J. Martin | | | +14.819 |
| 11 | 93 | M. Marquez | | | +14.964 |
| 12 | 5 | J. Zarco | | | +17.431 |
| 13 | 72 | M. Bezzecchi | | | +17.807 |
| 14 | 36 | J. Mir | | | +18.673 |
| 15 | 37 | A. Fernandez | | | +21.455 |
| 16 | 21 | F. Morbidelli | | | +21.474 |
| 17 | 25 | R. Fernandez | | | +22.142 |
| 18 | 44 | P. Espargaro | | | +27.194 |
| 19 | 30 | T. Nakagami | | | +27.740 |
| DNF | 41 | A. Espargaro | | | |
| DNF | 27 | I. Lecuona | | | |
Latest articles on Ducatista.org:
« Back