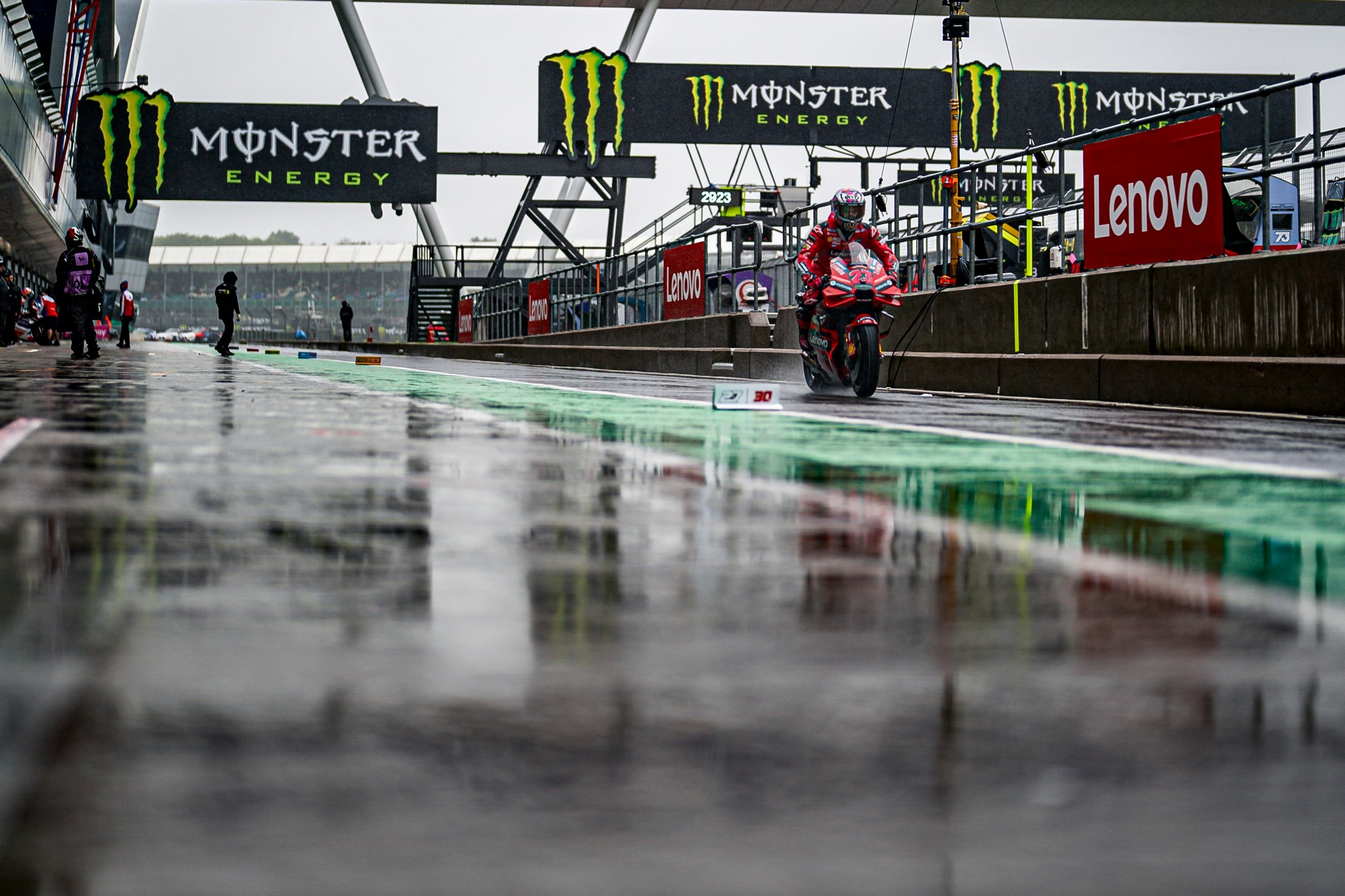 MotoGP Sprint in Silverstone
05.08.2023
Saturday at the Monster Energy British Grand Prix was quite demanding for both Ducati Lenovo Team riders, who had to deal with low temperatures and the rain that disturbed most of today's track activities.

Still, Bagnaia managed to establish an excellent feeling with his Desmosedici GP, but a crash in Q2 prevented him from going beyond 4th place in qualifying. As he got off the line from the second row of the grid in this afternoon's Sprint, held on a damp but drying track surface, Pecco suffered from a lack of feeling both in braking and corner entry, dropping soon in twelfth place and then loosing two more places before the flag. Enea Bastianini, who started from row 5 from 13th as he missed to proceed from Q1 to Q2 in the morning, caught up in the midfield and was unable to make any forward progress throughout the race, eventually ending the race thirteenth.

The Sprint ended with a Ducati 1-2, with Alex Marquez (Gresini Racing MotoGP) climbing on the top step of the rostrum ahead of Marco Bezzechi's (VR46 Racing Team) Desmosedici GP, second.

Enea Bastianini (#23 Ducati Lenovo Team) – 13th
"Qualifying didn't go badly, but I couldn't get into Q2; otherwise I could have started further up the grid. Instead, during the race, I had a small problem on the front, and I couldn't brake as I wanted. The race should be dry tomorrow, but we still have some work to do to be competitive. I don't expect great things for the GP, as our real potential is to be in the top 10, but I hope to make some steps forward. At the moment, focusing too much on what the other Ducati riders are doing isn't the right way. I should concentrate on myself and my sensations.

Francesco Bagnaia (#1 Ducati Lenovo Team) – 14th
"The set-up was OK for the wet, and I was feeling incredible this morning, lapping close to the pole, but I crashed. My feeling on the bike was good, but in the warm-up lap, something was strange, and as soon as I started the race, I could feel there were problems. We are checking the data to understand what happened, but honestly, this is not our level. I was very slow, it was impossible to push or stop the bike. I almost crashed at every corner. I think we can do a good race if the conditions are dry tomorrow."

The Ducati Lenovo Team riders will line up for tomorrow's 20-lap Monster Energy British Grand Prix, round 9 of the MotoGP World Championship, at 1pm UK time (14.00 CEST), with the ten-minute morning warm-up scheduled for 9.45am (10.45 CEST).
Race results
| Pos. | Nr. | Driver | Team | Bike | Time |
| --- | --- | --- | --- | --- | --- |
| 1 | 73 | A. Marquez | | | 21:52.3170 |
| 2 | 72 | M. Bezzecchi | | | +0.366 |
| 3 | 12 | M. Viñales | | | +3.374 |
| 4 | 5 | J. Zarco | | | +5.671 |
| 5 | 41 | A. Espargaro | | | +6.068 |
| 6 | 89 | J. Martin | | | +7.294 |
| 7 | 43 | J. Miller | | | +9.415 |
| 8 | 37 | A. Fernandez | | | +9.850 |
| 9 | 33 | B. Binder | | | +10.435 |
| 10 | 88 | M. Oliveira | | | +11.247 |
| 11 | 10 | L. Marini | | | +17.365 |
| 12 | 49 | F. Di Giannantonio | | | +20.063 |
| 13 | 23 | E. Bastianini | | | +24.352 |
| 14 | 1 | F. Bagnaia | | | +25.527 |
| 15 | 21 | F. Morbidelli | | | +27.191 |
| 16 | 44 | P. Espargaro | | | +27.693 |
| 17 | 36 | J. Mir | | | +29.062 |
| 18 | 93 | M. Marquez | | | +29.326 |
| 19 | 25 | R. Fernandez | | | +29.627 |
| 20 | 30 | T. Nakagami | | | +29.909 |
| 21 | 20 | F. Quartararo | | | +30.326 |
| 22 | 27 | I. Lecuona | | | +47.674 |
Latest articles on Ducatista.org:
« Back