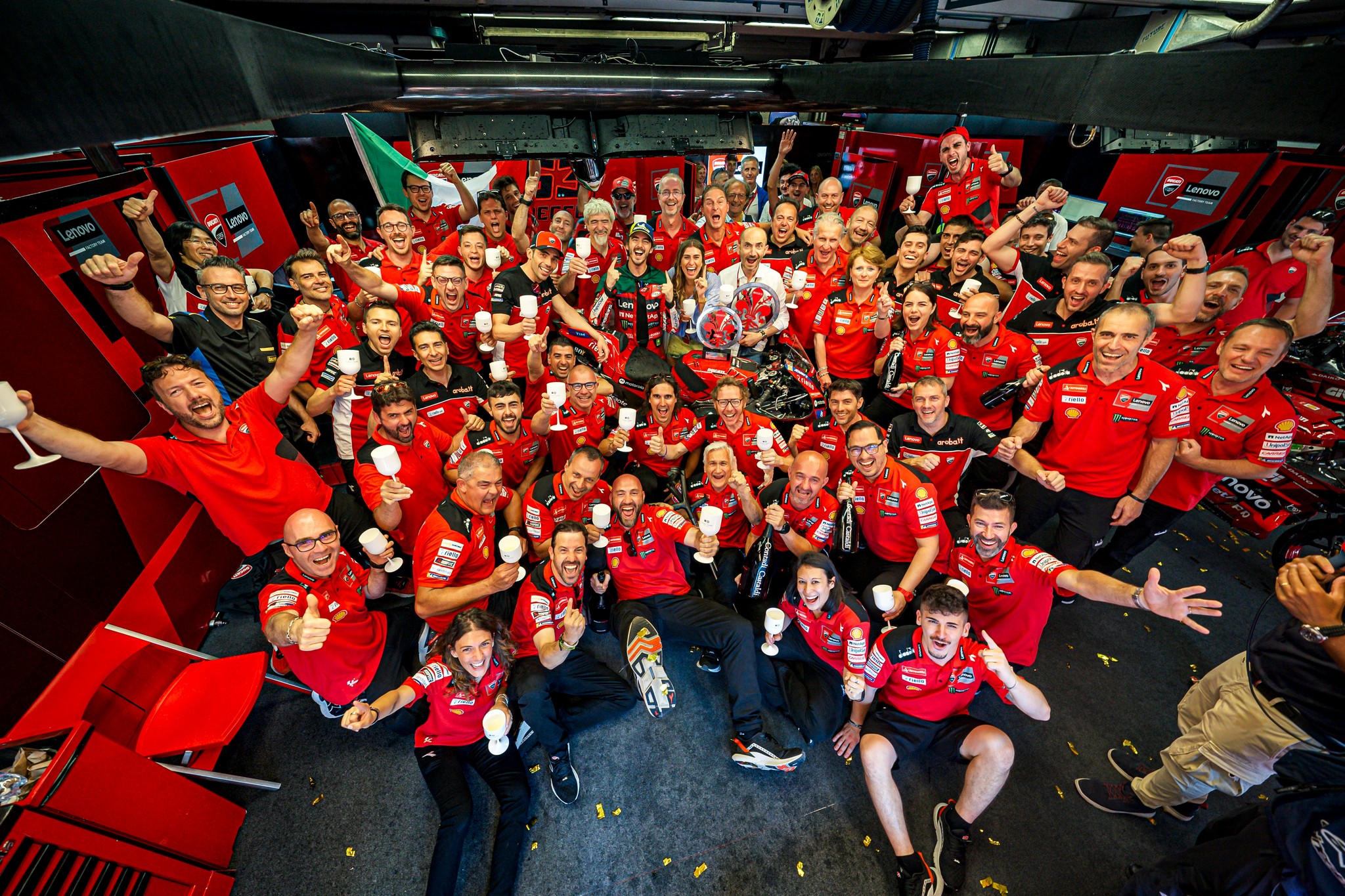 MotoGP in Mugello
11.06.2023
Francesco Bagnaia (Ducati Lenovo Team) produced another brilliant display of riding at the Autodromo Internazionale del Mugello to score his third GP win of the year and increase his advantage in this year's standings to 21 points over Marco Bezzecchi. The reigning world champion and yesterday's Sprint winner led every lap of the spectacular 5.25 km Tuscany circuit from start to finish scoring his fourteenth win in MotoGP. Bagnaia finished 1.5 seconds ahead of the Pramac Racing duo of Jorge Martin (Pramac Racing), the only man to offer any opposition during the race, and Johann Zarco, while Luca Marini (VR46 Racing) was the best of the rest in fourth place. With this victory, Ducati notched up its 75th win in the premier MotoGP category since its inception in 2003.

Bagnaia started from pole, and after seeing off an early attack from Miller, had already pulled out a 0.5s lead over Martin at the end of the opening lap. He maintained his advantage over the Spaniard until the end, and controlled the situation to take the chequered flag with a final margin of 1 second.

Teammate Enea Bastianini gritted his teeth on his full-time return to racing after his recent injury, starting the sixth round of the season from P11 on the grid. The Italian focussed on bringing his Desmosedici GP to the flag to put some more points on the board, which he did with a stoic run to ninth place after a late-race battle with Morbidelli and Quartararo.

Francesco Bagnaia (#1 Ducati Lenovo Team) – 1st
"This feels even better than last year's victory because after yesterday the only way to have a better conclusion was to win my home GP. It has been a great weekend - pole position, sprint race win and today's win so I'm very happy. I want to say thanks to all the fans here today, the crowd was very impressive. The pace was strong but the conditions were very tough for the hot temperature. I was trying not to give any chance to Martin to come closer, because he was with the soft tyre and I knew that his potential could be higher. He was always 0.4/0.5 so I tried to be calm and not get nervous, but then when I saw he was struggling a bit I just tried to push more to open the gap. My team did an incredible job, and my physio and my trainer helped me a lot in this period with the fracture, so a big thanks also to them."

Enea Bastianini (#23 Ducati Lenovo Team) – 9th
"It was a really difficult race today, 23 laps was very long for me because after so much time without riding the bike it was difficult. I made a solid P9, battled a lot with Fabio and Franco for the entire race then in the last ten laps I made a big drop and it was more difficult, but another ninth place was OK. Yesterday's Sprint was OK and the first day obviously better but now I have to check my shoulder again and see if I can do something for the next race because it is so difficult for me. Probably Sachsenring will be a bit less physical compared to this one, my shoulder will be stronger and I can do a better race, but I need the summer break to make my arm stronger for the second half of the season."

Claudio Domenicali (CEO Ducati Motor Holding)
"Mugello is the home of Pecco, it was a really beautiful race. Being on the grid before the start, with the national anthem and the Frecce, was a bit emotional and then finishing like this with the victory it could not have been better. I really have to thank all the people back home who are not here with us, the team itself has never been so united as this year. This result depends on the work that everyone does, Pecco is the goalscorer, the goleador. There is so much work done behind the scenes by the guys who work in the shadows, who should be thanked, and it also gives me great pleasure that they keep the Italian flag flying high."

Luigi Dall'Igna (Ducati Corse General Manager)
"It's probably our best race ever, we've never put four bikes in front of everyone and the fact that we're doing it here at home makes me happy. The goal is always to score as many points as possible for the world championship; this is what we have to do at every track, and not lose focus on other not so important goals. In the first lap, Pecco was good at keeping up with Miller and getting ahead as soon as possible. In my opinion, Enea had a wonderful race. He started higher than I expected, he fought, won duels and got into the top ten."

The Ducati Lenovo Team will now head for Sachsenring, Germany for the next round of three in successive weekends, followed in rapid succession by the TT Assen in the Netherlands.
Race results
| Pos. | Nr. | Driver | Team | Bike | Time |
| --- | --- | --- | --- | --- | --- |
| 1 | 1 | F. Bagnaia | | | 41:16.8630 |
| 2 | 89 | J. Martin | | | +1.067 |
| 3 | 5 | J. Zarco | | | +1.977 |
| 4 | 10 | L. Marini | | | +4.625 |
| 5 | 33 | B. Binder | | | +8.925 |
| 6 | 41 | A. Espargaro | | | +10.908 |
| 7 | 43 | J. Miller | | | +10.999 |
| 8 | 72 | M. Bezzecchi | | | +12.654 |
| 9 | 23 | E. Bastianini | | | +17.102 |
| 10 | 21 | F. Morbidelli | | | +17.610 |
| 11 | 20 | F. Quartararo | | | +17.861 |
| 12 | 12 | M. Viñales | | | +19.110 |
| 13 | 30 | T. Nakagami | | | +21.947 |
| 14 | 49 | F. Di Giannantonio | | | +25.906 |
| 15 | 37 | A. Fernandez | | | +26.500 |
| 16 | 51 | M. Pirro | | | +30.150 |
| 17 | 25 | R. Fernandez | | | +38.001 |
| 18 | 32 | L. Savadori | | | +38.662 |
| 19 | 94 | J. Folger | | | +78.912 |
| DNF | 73 | A. Marquez | | | |
| DNF | 88 | M. Oliveira | | | |
| DNF | 93 | M. Marquez | | | |
Latest articles on Ducatista.org:
« Back