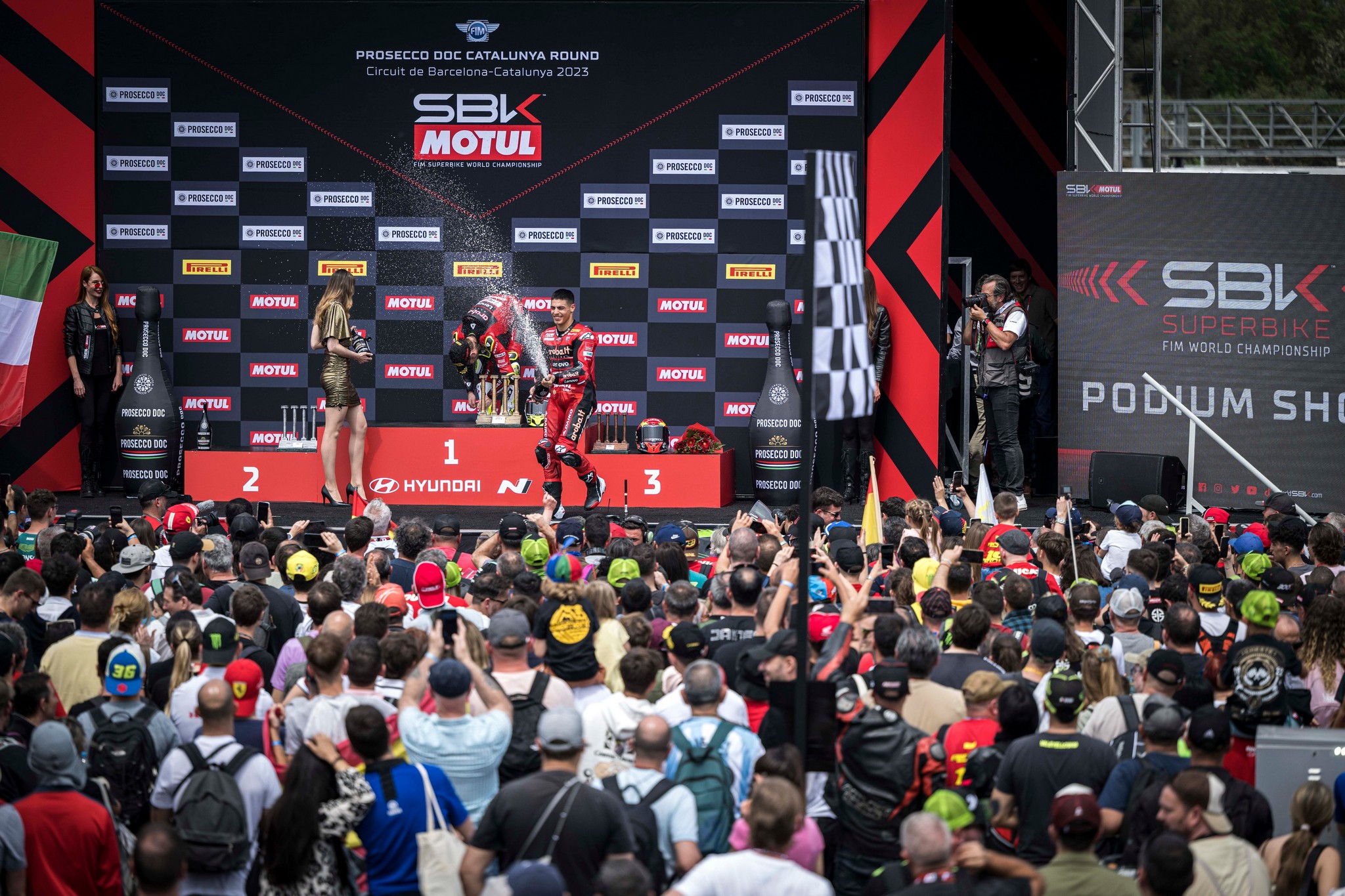 WSBK in Catalunya
07.05.2023
On one hand, the dominant race of Alvaro Bautista, who took his ninth win of the season by a wide margin. On the other, the disappointment of Michael Rinaldi, who showed he could easily take the second step of the podium but crashed after a maneuver by Bassani, which was later judged irresponsible.

These were the emotions for the Aruba.it Racing - Ducati team on Saturday at the Catalunya Round, the fourth round of the 2023 WorldSBK season.

Bautista started from Pole Position, and his race pace was unbeatable even after the "red flag" that interrupted the race on lap four.

Rinaldi made a great start from fourth position, and by the first corner, he was already up in second. After the red flag, he tried to stay with Bautista, but he was hit by Bassani (who was later sanctioned with a long lap penalty for 'irresponsible riding') and crashed. Rinaldi had to seek treatment at the Clinica Mobile for a severe contusion to his right hand.

Alvaro Bautista (Aruba.it Racing - Ducati #1)
"I am very happy to have taken this victory in front of my family, friends, and many fans. I can say it was a perfect day, starting with the pole position and ending with a race in which I was very fast. The feeling with the bike was extraordinary. I had a lot of fun. I want to thank the team, who are working really well".

Michael Rinaldi (Aruba.it Racing - Ducati #21)
"We had all the right cards to take second place. We had a great start to the weekend right from FP1, and the feeling today was really good. Unfortunately, however, I was hit by Bassani: a senseless maneuver also because up until today, he had shown that he didn't have the pace to be among the leaders, as, in fact, happened at the end of the race. It's a real shame. I hope the pain in my hand will allow me to make up for it tomorrow".
Another sensational hat-trick, the third of the season so far, for Alvaro Bautista who dominates the weekend at Barcelona and celebrates at the parc ferme alongside his team-mate Michael Rinaldi, protagonist of an excellent race.
Alvaro Bautista is in sensational shape and he completes another perfect weekend that began with Pole Position and ended with three wins. Race-2 is also a domination of the Spanish rider: on the second lap he starts building the gap, and he passes under the chequered flag with a big advantage.

Michael Rinaldi is in pain on his right hand after the crash in Race-1, but he grits his teeth and makes himself the protagonist of a fantastic Race-2. He first fights with Lowes (Kawasaki) and Razgatlioglu (Yamaha), then he pushes hard.
When the second position seems conquered, the sudden drop of the rear tyre allows Toprak to steal him the second step of the podium.

The Aruba.it Racing - Ducati team now moves on to Misano for testing on 11 and 12 May.

Alvaro Bautista (Aruba.it Racing - Ducati #1)
"I want to say it: it was a perfect weekend. I am very very happy. It's clear that this is a circuit I really like but to win three races in front of my family, friends and fans is always a great feeling. It's a fantastic start to the season but I only want to think about testing and *the * Misano round, where the competition will be fierce".

Michael Rinaldi (Aruba.it Racing - Ducati #21)
"It was a very special weekend in which everything happened. In the Superpole Race I was going strong, I was fighting for the podium, but when some drops started to fall I had to focus on not falling in order to protect my right hand. In Race 2 things went very well even though in the last two laps the rear tyre dropped a lot more than expected. Toprak caught me but it doesn't matter. It's still a nice podium.

Race results
| Pos. | Nr. | Driver | Bike | Time-gap to Leader |
| --- | --- | --- | --- | --- |
| 1 | 1 | A. Bautista | Panigale V4R | |
| 2 | 54 | T. Razgatlioglu | YZF R1 | 8.583 |
| 3 | 21 | M. Rinaldi | Panigale V4R | 8.643 |
| 4 | 22 | A. Lowes | ZX-10RR | 11.366 |
| 5 | 65 | J. Rea | ZX-10RR | 12.824 |
| 6 | 97 | X. Vierge | CBR1000 RR-R | 15.242 |
| 7 | 55 | A. Locatelli | YZF R1 | 15.771 |
| 8 | 77 | D. Aegerter | YZF R1 | 16.516 |
| 9 | 7 | I. Lecuona | CBR1000 RR-R | 18.946 |
| 10 | 31 | G. Gerloff | M1000 RR | 19.637 |
| 11 | 47 | A. Bassani | Panigale V4R | 21.561 |
| 12 | 9 | D. Petrucci | Panigale V4R | 23.410 |
| 13 | 87 | R. Gardner | YZF R1 | 25.255 |
| 14 | 5 | P. Oettl | Panigale V4R | 29.381 |
| 15 | 28 | B. Ray | YZF R1 | 34.437 |
| 16 | 76 | L. Baz | M1000 RR | 37.717 |
| 17 | 75 | I. Lopes | M1000 RR | 37.757 |
| RET | 34 | L. Baldassarri | YZF R1 | 2 Laps |
| RET | 45 | S. Redding | M1000 RR | 6 Laps |
| RET | 32 | I. Vinales | ZX-10RR | |
| RET | 66 | T. Sykes | ZX-10RR | |
| RET | 35 | H. Syahrin | CBR1000 RR-R | |
Latest articles on Ducatista.org:
« Back