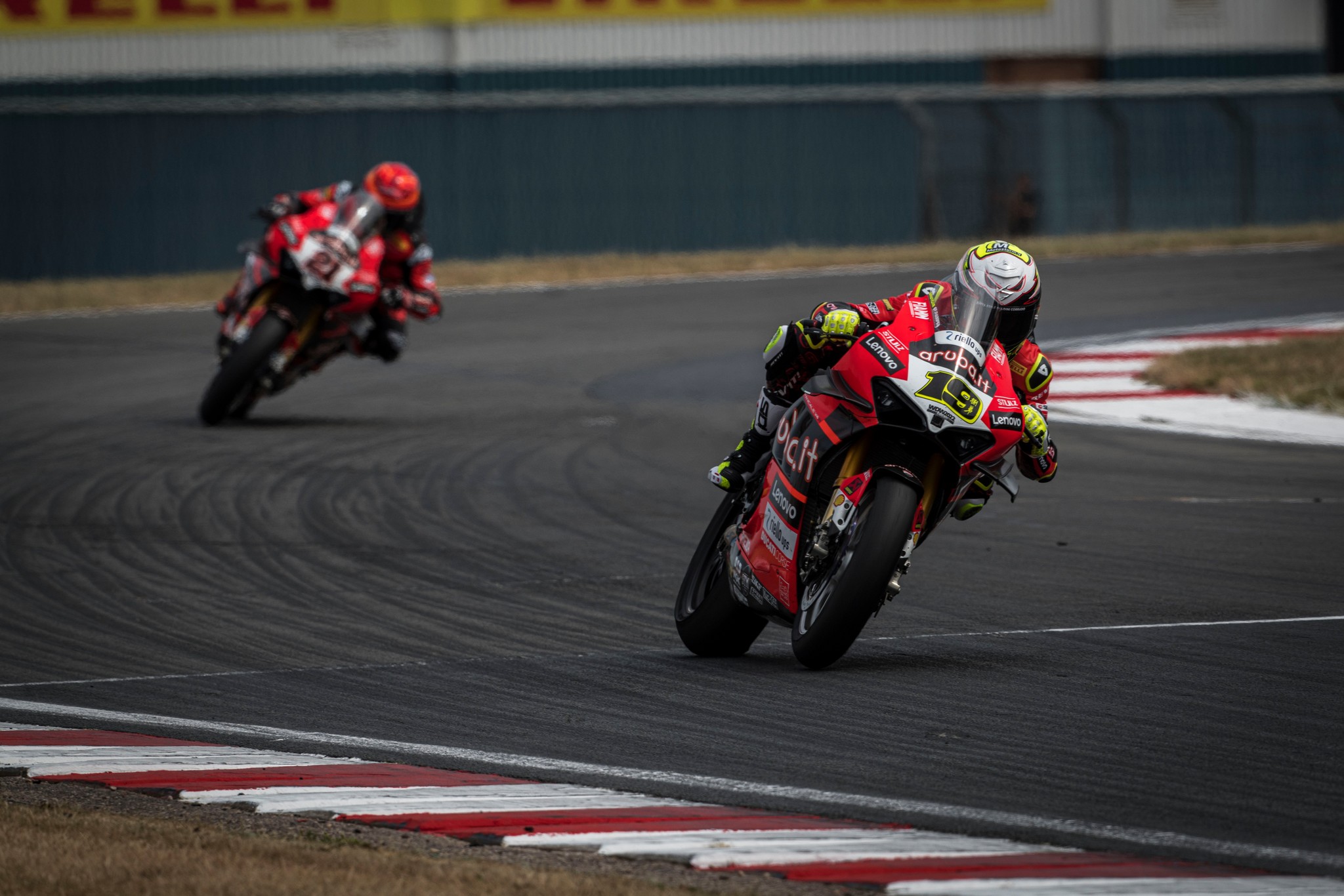 WSBK-weekend in Donington
17.07.2022
A difficult Saturday concludes for the Aruba.it Racing - Ducati team at Donington Park. Race1 of the Prosecco DOC UK Round saw Michael Rinaldi taking sixth place while Alvaro Bautista suffered his first crash of the season.

The Spanish rider got off well from the fifth position, and already in the first lap, he joined the group fighting for the podium, engaging in a spectacular duel for second with Rea (Kawasaki). With seven laps to go, Bautista managed to take a little margin, but at turn 12, he lost the front and crashed.

After a good start, Michael Rinaldi (sixth in qualifying) could not stay with the leaders. However, the race pace was incisive, allowing him to pass Lecuona (Honda) for the seventh position. Rinaldi eventually finished the race in P6.

Michael Rinaldi (Aruba.it Racing - Ducati #21)
"It's a shame because we had the chance to stay with the group fighting for the podium until the end. Unfortunately, during the race, I had to deal with two issues that did not allow me to keep the race pace I had during practice. So I preferred to finish the race without taking unnecessary risks. Now we will analyze the data to solve the problems we had. However, I remain confident for the two races tomorrow."

Alvaro Bautista (Aruba.it Racing - Ducati #19)
"I am very sorry for the crash, but I have to say that it was a sudden thing. The feeling was good, and I wasn't on the limit. Unfortunately, I also made a small mistake because of the many circuit bumps, especially in that corner. These things can happen, but certainly, this fall doesn't change my approach and doesn't dent our confidence ahead of tomorrow's races."

Alvaro Bautista and Michael Rinaldi respond well to Saturday's difficulties by giving the Aruba.it Racing - Ducati team two valuable results in Sunday's Race-2.

After the fourth place in Superpole Race, the Spanish immediately stuck to Razgatlioglu (Yamaha) and Rea (Kawasaki). With four laps to go, Bautista attacked Rea to take second position, ending the Pirelli DOC UK Round with a 17-point lead in the World Superbike Championship standings.

An extremely convincing race for Michael Rinaldi. Starting from sixth position, the Italian rider was immediately incisive and his race pace allowed him to pass Redding (BMW) on lap 13 to conquer fourth position. With this result, Rinaldi moves to within five points of fourth place in the WorldSBK standings.

Alvaro Bautista (Aruba.it Racing - Ducati #19)
"Despite the crash in Race-1 I think it was a very positive weekend because we knew the difficulties we could encounter on this track. It was not an easy race today, especially because of the pain in my hand after the crash. But I gritted my teeth and managed to stay close to Toprak and Johnny, securing a second place. I look forward to being in Most, a circuit that I think may be more suitable for our characteristics"

Michael Rinaldi (Aruba.it Racing - Ducati #21)
"I am very happy with this weekend. Yesterday we missed a chance to get on the podium because of an inconvenience we had during the race. The pace, however, has always been very strong and that is what we need. Today we had a decent Superpole Race and in Race-2 I pushed hard. I could say that this was the toughest race of my career and for that reason, I am very satisfied with the final result. I want to thank the whole team for the work done these days."
Race results
| Pos. | Nr. | Driver | Bike | Time-gap to Leader |
| --- | --- | --- | --- | --- |
| 1 | 1 | T. Razgatlioglu | YZF R1 | |
| 2 | 19 | A. Bautista | Panigale V4R | 1.102 |
| 3 | 65 | J. Rea | ZX-10RR | 2.615 |
| 4 | 21 | M. Rinaldi | Panigale V4R | 5.067 |
| 5 | 45 | S. Redding | M1000RR | 8.256 |
| 6 | 22 | A. Lowes | ZX-10RR | 10.114 |
| 7 | 47 | A. Bassani | Panigale V4R | 13.422 |
| 8 | 55 | A. Locatelli | YZF R1 | 15.514 |
| 9 | 76 | L. Baz | M1000RR | 23.119 |
| 10 | 7 | I. Lecuona | CBR1000 RR-R | 23.512 |
| 11 | 31 | G. Gerloff | YZF R1 | 23.596 |
| 12 | 5 | P. Oettl | Panigale V4R | 24.142 |
| 13 | 97 | X. Vierge | CBR1000 RR-R | 24.896 |
| 14 | 44 | L. Mahias | ZX-10RR | 32.872 |
| 15 | 95 | T. Mackenzie | YZF R1 | 33.356 |
| 16 | 29 | L. Bernardi | Panigale V4R | 44.719 |
| 17 | 36 | L. Mercado | CBR1000 RR-R | 51.052 |
| 18 | 3 | K. Nozane | YZF R1 | 52.320 |
| 19 | 10 | P. Hickman | M1000RR | 52.457 |
| 20 | 35 | H. Syahrin | CBR1000 RR-R | 57.785 |
| 21 | 2 | R. Tamburini | YZF R1 | 58.338 |
| 22 | 52 | O. Konig | ZX-10RR | |
| RET | 50 | E. Laverty | M1000RR | 4 Laps |
| RET | 91 | L. Haslam | ZX-10RR | |
| RET | 37 | I. Mykhalchyk | M1000RR | |
Latest articles on Ducatista.org:
« Back