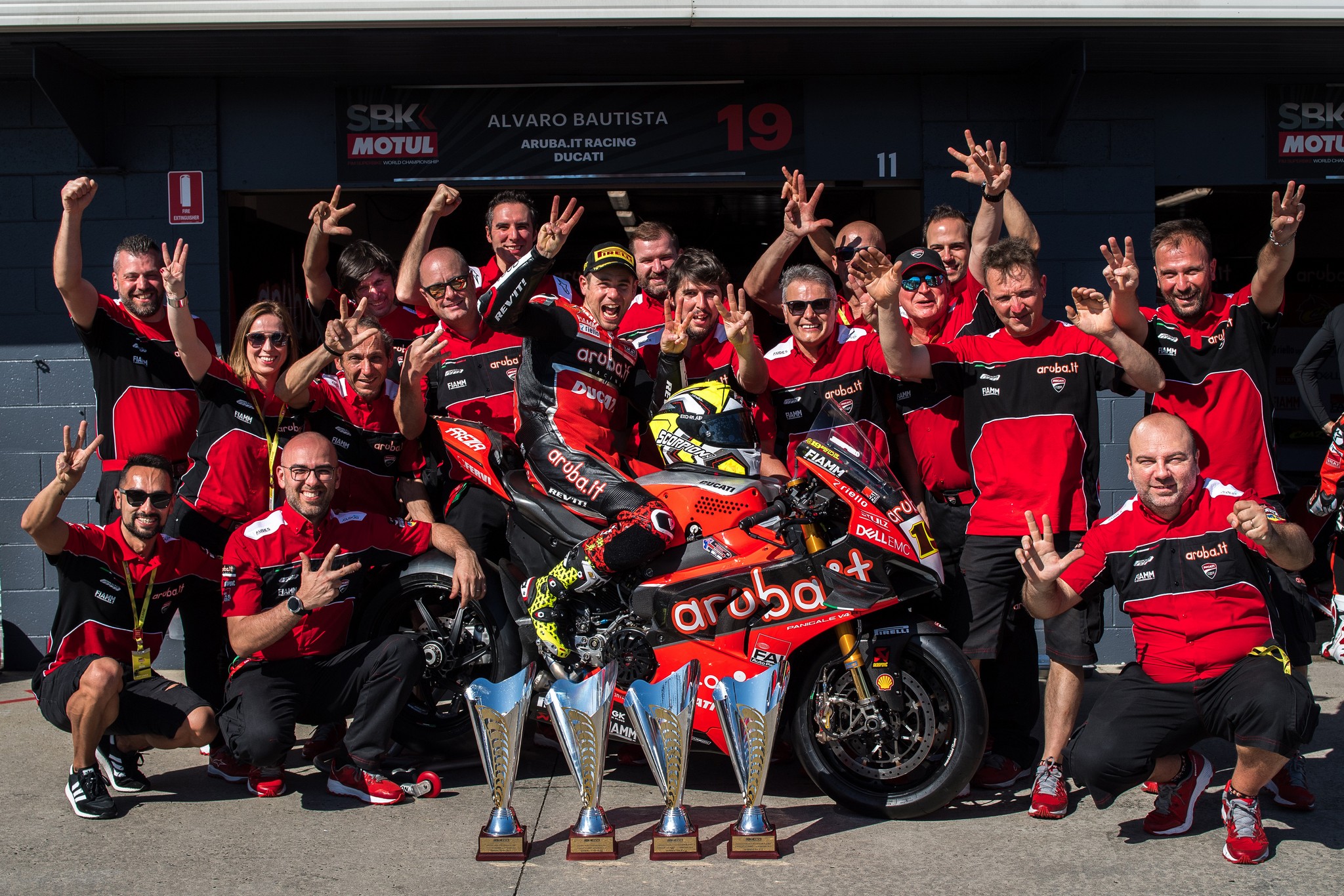 WSBK in Phillip Island Superpole-Race and Race 2
24.02.2019
Álvaro Bautista couldn't have got off to a better start in World Superbike this weekend at Phillip Island, as the 34-year-old Spanish rider dominated the opening round of the championship held at the Phillip Island circuit in Australia.

After his triumph in race 1, Bautista went on to take two more wins, the first in the ten-lap Superpole Race, in which he held off Rea, and the second in race 2, when he crossed the finish line with a lead of 12 seconds, again over Rea.

With these results, Bautista has immediately taken the lead of the championship standings, with 62 points, a lead of 13 over his rival from Northern Ireland.

Team-mate Chaz Davies showed some signs of improvement in race 2. In the morning his technicians made some major modifications to the set-up of his Panigale V4 R in an attempt to give the Welshman an easier bike to ride. Davies managed to take the chequered flag in seventh place.

Alvaro Bautista (Aruba.it Racing Ducati #19) – 1st
"It has been a perfect weekend and my Superbike debut couldn't have been better! We made a clean sweep of everything by winning race 1, the Superpole race and race 2. If people had said to me before that I would have won three races, I wouldn't have believed them, but we worked hard during the tests to prepare a fantastic bike. In this morning's Superpole race I had a lot of fun fighting with Rea, I knew that he was very strong and that he was always pushing. The pace was incredible and I had to concentrate so hard, but in the end I got the better of him. In race 2 the track conditions were more difficult than in the morning, and it was important to save the tyres because of the higher track temperature, so I pushed hard in the early laps to try and manage the situation at the end. I'm so happy with the results, today is a day I will never forget! A big thanks to the Aruba team, to Ducati and to my crew for making this all possible! Now we have to continue to work hard, we're only at the beginning and I think it's going to be a very top-level championship."

Chaz Davies (Aruba.it Racing Ducati #7) – 7th
"We managed to make some progress in race 2 and I felt a bit better with the V4 R, which is the most important thing. After yesterday's result, we had nothing to lose so the guys in the team made some major changes that allowed me to slightly improve my race pace. I'm still a bit disappointed because we didn't expect this result, but we picked up a lot of useful data to understand what I need for the next race. My congratulations to Álvaro, because he was really impressive all throughout the weekend."

Stefano Cecconi, CEO Aruba and Team Principal
"It was virtually a perfect weekend for Álvaro, he dominated almost every session and showed he had the margin to manage every situation. We have got off to the best possible start, but we must remain with our feet firmly on the ground and continue to work hard to achieve the maximum results possible on the other tracks with both of our riders."
Race results
| Pos. | Nr. | Driver | Bike | Time-gap to Leader |
| --- | --- | --- | --- | --- |
| 1 | 19 | A. Bautista | Panigale V4 R | 33:38.114 |
| 2 | 1 | J. Rea | ZX-10RR | 12.195 |
| 3 | 91 | L. Haslam | ZX-10RR | 12.454 |
| 4 | 60 | M. van der Mark | YZF R1 | 16.574 |
| 5 | 22 | A. Lowes | YZF R1 | 16.859 |
| 6 | 33 | M. Melandri | YZF R1 | 17.329 |
| 7 | 7 | C. Davies | Panigale V4 R | 26.823 |
| 8 | 11 | S. Cortese | YZF R1 | 27.580 |
| 9 | 50 | E. Laverty | Panigale V4 R | 29.116 |
| 10 | 2 | L. Camier | CBR1000RR | 29.178 |
| 11 | 36 | L. Mercado | ZX-10RR | 29.460 |
| 12 | 28 | M. Reiterberger | S1000 RR | 29.896 |
| 13 | 66 | T. Sykes | S1000 RR | 31.231 |
| 14 | 81 | J. Torres | ZX-10RR | 40.926 |
| 15 | 23 | R. Kiyonari | CBR1000RR | 41.616 |
| 16 | 21 | M. Rinaldi | Panigale V4 R | 1 Runden |
| DNF | 54 | T. Razgatlioglu | ZX-10RR | 5 Runden |
| DNF | 17 | T. Herfoss | CBR1000RR | 17 Runden |
| DNF | 52 | A. Delbianco | CBR1000RR | 22 Runden |
Latest articles on Ducatista.org:
« Back