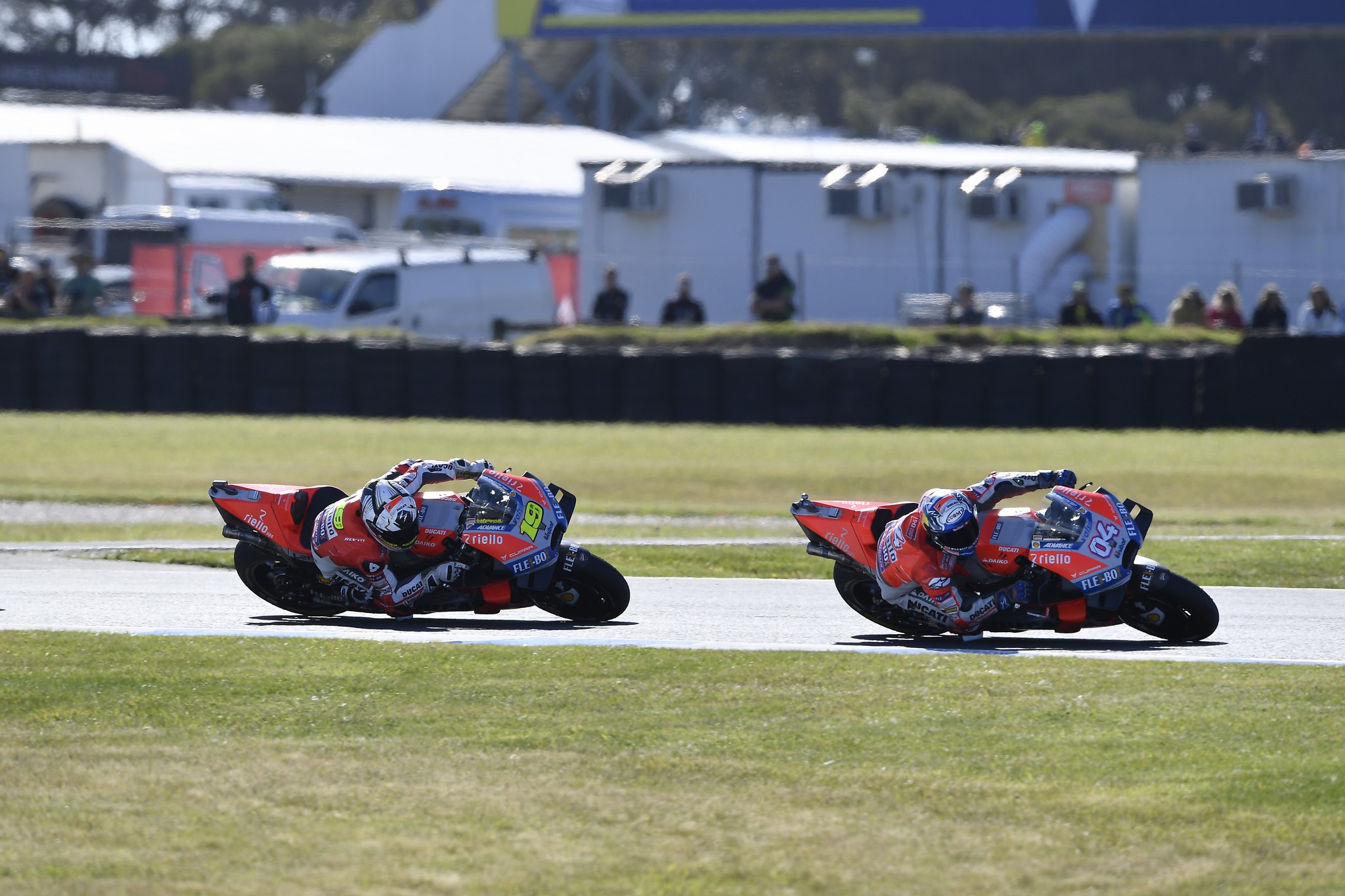 MotoGP in Australia
28.10.2018
Andrea Dovizioso scored an important podium at the Phillip Island circuit today thanks to a third place finish in the Australian Grand Prix at the end of an exciting and hard-fought race. The Ducati Team's Italian rider, who got a great start from row 3, led from the fifth to the seventh lap and after being passed by eventual race winner Viñales, was involved in an exciting scrap with Rossi, Iannone and Bautista. In the last few laps Andrea remained glued to the rider from Vasto's rear wheel but he was unable to pass him and so he finished his race in a well-deserved third place. Thanks to today's result Dovizioso has increased his lead over Rossi to 15 points in the Riders' standings.

Team-mate Álvaro Bautista, who started today instead of the injured Jorge Lorenzo, scored a great result today, the Spanish rider finishing fourth at the chequered flag after a rather complicated race. Bautista, starting from row 4, managed to catch up with the leading group and then moved into second on lap 15. Álvaro continued to fight for the podium with Dovizioso, Iannone and Rossi but in the last few laps he lost contact with the two Italian riders and had to settle for a positive fourth place.

Once again the Ducati Team wishes to thank Jorge Martinez "Aspar", the Angel Nieto Team and Álvaro Bautista for their goodwill.

The next round is the Shell Malaysia Grand Prix, scheduled for the Sepang International Circuit on 2-4 November.

Andrea Dovizioso (Ducati Team #04) - 3rd
"I'm really satisfied with the way the race went today. Even though we knew we had good speed, managing to get a podium here is another thing. I'm pleased I got myself immediately into an ideal position in the race, because if you start from the third row here at Phillip Island anything can happen, as we saw. Instead with a bit of luck I immediately managed to make up some positions and after a few laps I was first: I never expected that! Then I had a chance to manage the tyres and reach the end of the race in a good state, even though we were all in trouble a bit. I'm very pleased with the work we've done here: Phillip Island was a fundamental test to understand our level of competitiveness and now we know we have made a good step forward over last year."

Álvaro Bautista (Ducati Team #19) - 4th
"At the end of a difficult weekend in which I crashed three times, this fourth place is a great reward for me. To come into a new team and step onto a new bike at a circuit like this was for sure not going to be easy, but I think we've worked well together, making steps forward in every session. I started the race really focussed and relaxed because I had no real targets to aim for, except for enjoying riding the Desmosedici GP18. After quite a complicated start, I was able to soon catch up with the leading group and fight for the front positions. In the last few laps I made a few small mistakes and lost contact with Dovizioso and Iannone, but in any case I'm very happy with my overall result, especially for the team and for Ducati, whom I would like to thank once again for the trust they have shown in me."
Race results
| Pos. | Nr. | Driver | Team | Bike | Time |
| --- | --- | --- | --- | --- | --- |
| 1 | 25 | M. Viñales | | | 40:51.081 |
| 2 | 29 | A. Iannone | | | + 00:01.543 |
| 3 | 4 | A. Dovizioso | | | + 00:01.832 |
| 4 | 19 | A. Bautista | | | + 00:04.072 |
| 5 | 42 | A. Rins | | | + 00:05.017 |
| 6 | 46 | V. Rossi | | | + 00:05.132 |
| 7 | 43 | J. Miller | | | + 00:06.756 |
| 8 | 21 | F. Morbidelli | | | + 00:21.805 |
| 9 | 41 | A. Espargaro | | | + 00:22.904 |
| 10 | 38 | B. Smith | | | + 00:22.940 |
| 11 | 17 | K. Abraham | | | + 00:34.386 |
| 12 | 9 | D. Petrucci | | | + 00:35.025 |
| 13 | 45 | S. Redding | | | + 00:36.348 |
| 14 | 30 | T. Nakagami | | | + 00:36.389 |
| 15 | 10 | X. Simeon | | | + 00:44.214 |
| 16 | 12 | T. Luthi | | | + 00:48.226 |
| 17 | 81 | J. Torres | | | + 01:04.965 |
| 18 | 7 | M. Jones | | | + 01:19.817 |
| DNF | 44 | P. Espargaro | | | 5 Laps |
| DNF | 55 | H. Syahrin | | | 9 Laps |
| DNF | 26 | D. Pedrosa | | | 16 Laps |
| DNF | 93 | M. Marquez | | | 22 Laps |
| DNF | 5 | J. Zarco | | | 22 Laps |
Latest articles on Ducatista.org:
« Back