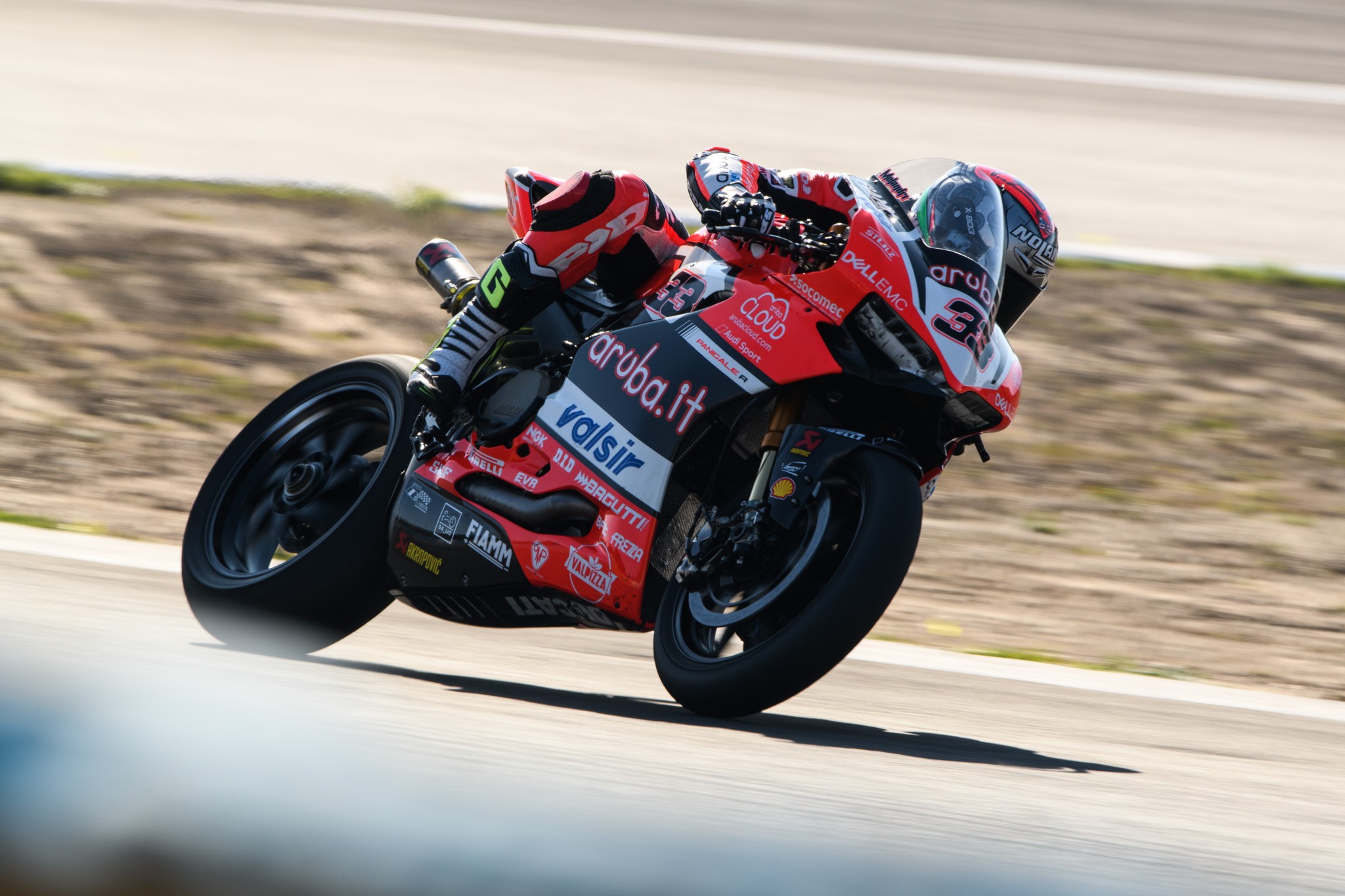 Superbike Tests in Portimao
30.01.2018
After kicking off its 2018 campaign with a private test at Jerez de la Frontera (Spain) last week, the Aruba.it Racing - Ducati team took it back to the track at Portimão (Portugal) for another two-day test ahead of the season opener, which will unfold within a month at Phillip Island (Australia). The team thus built on the work started in Spain to move forward with the development of the 2018-spec Panigale R.

Chaz Davies improved his lap times by circa half a second throughout the test to finish with a 1:42.542, just ahead of his teammate Marco Melandri, who posted a 1:42.606.

Michael Ruben Rinaldi, riding for the Aruba.it Racing - Junior Team, made further progress in his quest to adapt to the WorldSBK-spec Panigale R with a personal best of 1:43.013. All the lap times were set on race tyres.

The teams will now observe a short break before heading to Phillip Island for an official two-day test on February 19-20 ahead of the opening round the following weekend on the iconic Australian track.

Chaz Davies (Aruba.it Racing - Ducati #7)
"After Jerez our focus was on consistency, which has improved for the main components we introduced, but is not what we're looking for yet. Apart from that, I think we simply need to fine-tune the chassis just a bit more. It was really windy, from time to time it was quite hard to even put a good lap together. There have been a lot of red flags, so my priority was to avoid crashing as my knee and shoulder are still improving and we didn't want any setbacks. Still, we got plenty of data to digest and we'll get some upgrades at Phillip Island that we'll get to try in the official tests to make sure we got the best package come race time."

Marco Melandri (Aruba.it Racing - Ducati #33)
"It's been another important test for us, even if a bit more complicated than the one at Jerez. We started with our 2017 race setup, but we the engine-rev limit we struggled a bit more. The track itself has improved in some areas, where the re-surfacing removed the bumps, but unfortunately the strong winds once again hindered our stability on the rear, both coming out of the last corner and throughout the main straight. Anyway, the engine's character remains our priority and I'm confident that with the upgrades we have in the pipeline for Phillip Island we'll manage to make a big step forward."

Michael Ruben Rinaldi (Aruba.it Racing - Junior Team #21)
"Compared with last week's tests, we started off with a much better feeling but unfortunately some technical issues kept us in the pits from time to time while our priority was actually to stay on track as much as possible. Also, Portimão is not the easiest track per se, especially given that this bike is still new to me, so it would had been helpful to make more laps. Anyway, sometimes this happens and we look forward to our next tests to keep adapting and improving."
Latest articles on Ducatista.org:
« Back