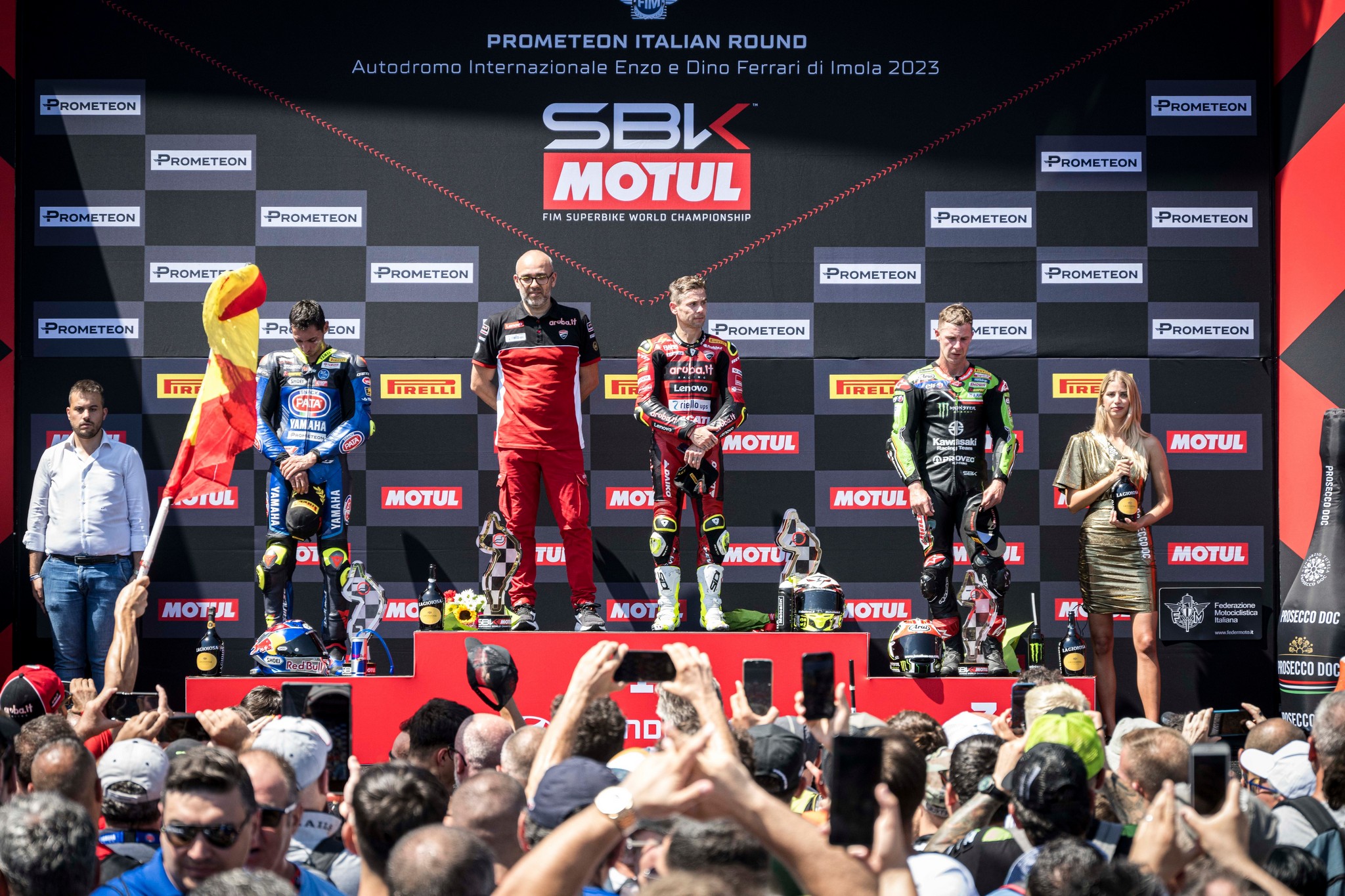 WSBK in Imola
16.07.2023

Saturday
The Italian Round Race 1 held today at the Autodromo Enzo and Dino Ferrari in Imola delivered another great show to all WorldSBK fans. After the start, the race saw Locatelli (Yamaha), Bassani (Ducati), and Razgatlioglu (Yamaha) taking turns at the lead, while Alvaro Bautista (who started from fourth ) remained in the leading group. Then the duel between the Aruba.it Racing - Ducati team rider and Razgatlioglu ignited with Bautista finally taking the lead with eight laps to go, and his progression was decisive until the checkered flag.
Like his teammate, Michael Rinaldi had also to deal with an unfortunate qualifying as the yellow flags denied him the pole or, at least, an almost certain front row at the last corner. As he was starting from eighth on the grid, the Italian rider gritted his teeth and was the protagonist of a solid comeback, which saw him secure an excellent fifth place.
Alvaro Bautista (Aruba.it Racing - Ducati #1)
"It was a tough race. I am delighted because I did not expect to be able to go this fast, especially after yesterday's free practice, where my feeling was not the best. However, lap after lap. I regained confidence despite a strong tussle. I tried to figure out where to attack Toprak, and when I felt the confidence at the front was good, I could pass him. It was a good Saturday, but now let's think about tomorrow".
Michael Rinaldi (Aruba.it Racing - Ducati #21)
"For sure, today's qualifying was affected by the yellow flags. I am still not in my best physical condition, but I did my best and gave all my heart to make a comeback in the race. I did not want to push too much, especially at the beginning, because it was important to score some points. I tried to catch Locatelli for fourth, but the gap was too wide after the previous comeback. I hope to be able to do a good Superpole Race tomorrow to start further ahead in Race 2".
Sunday
It was a Sunday of contrasting feelings in a scorching Imola that saw Race 2 shortened by five laps due to the prohibitive temperatures. Alvaro Bautista was the protagonist of a thrilling battle with Razgatlioglu (Yamaha) in the Superpole Race (P2), but in Race-2, he made a mistake at the first chicane and crashed out.
Michael Rinaldi gritted his teeth to finish both races in the top 5 to bring home precious points for the overall standings eventually.
These were the highlights of the WorldSBK Italian Round held at the Autodromo Enzo and Dino Ferrari in Imola.
Alvaro Bautista (Aruba.it Racing - Ducati #1)
"There is little to say. I made a trivial mistake passing on the white line on the first lap. It can happen, and the important thing is to know what happened. It's a shame because the feeling has grown a lot over the weekend, and that's a positive thing anyway. See you in Most".
Michael Rinaldi (Aruba.it Racing - Ducati #21)
"I gave it all and am happy to have brought some precious points home. Today was tough, I tried to push, but I felt I was at 50% of my potential. From tomorrow I'll be able to resume training with consistency to arrive in the best possible conditions at Most".
Race results
| Pos. | Nr. | Driver | Bike | Time-gap to Leader |
| --- | --- | --- | --- | --- |
| 1 | 54 | T. Razgatlioglu | YZF R1 | |
| 2 | 47 | A. Bassani | Panigale V4R | 1.966 |
| 3 | 65 | J. Rea | ZX-10RR | 2.458 |
| 4 | 55 | A. Locatelli | YZF R1 | 6.111 |
| 5 | 21 | M. Rinaldi | Panigale V4R | 11.154 |
| 6 | 28 | B. Ray | YZF R1 | 12.210 |
| 7 | 76 | L. Baz | M1000 RR | 13.319 |
| 8 | 45 | S. Redding | M1000 RR | 13.775 |
| 9 | 9 | D. Petrucci | Panigale V4R | 19.122 |
| 10 | 7 | I. Lecuona | CBR1000 RR-R | 22.770 |
| 11 | 87 | R. Gardner | YZF R1 | 23.214 |
| 12 | 77 | D. Aegerter | YZF R1 | 25.082 |
| 13 | 31 | G. Gerloff | M1000 RR | 25.179 |
| 14 | 97 | X. Vierge | CBR1000 RR-R | 25.199 |
| 15 | 5 | P. Oettl | Panigale V4R | 31.141 |
| 16 | 34 | L. Baldassarri | YZF R1 | 31.297 |
| 17 | 16 | G. Ruiu | M1000 RR | 44.753 |
| 18 | 20 | R. Tamburini | CBR1000 RR-R | 45.863 |
| 19 | 51 | E. Granado | CBR1000 RR-R | 46.190 |
| RET | 22 | A. Lowes | ZX-10RR | 4 Laps |
| RET | 32 | I. Vinales | ZX-10RR | 7 Laps |
| RET | 52 | O. Konig | ZX-10RR | 8 Laps |
| RET | 91 | L. Haslam | M1000 RR | 9 Laps |
| RET | 53 | T. Rabat | ZX-10RR | |
| RET | 1 | A. Bautista | Panigale V4R | |
Latest articles on Ducatista.org:
« Back