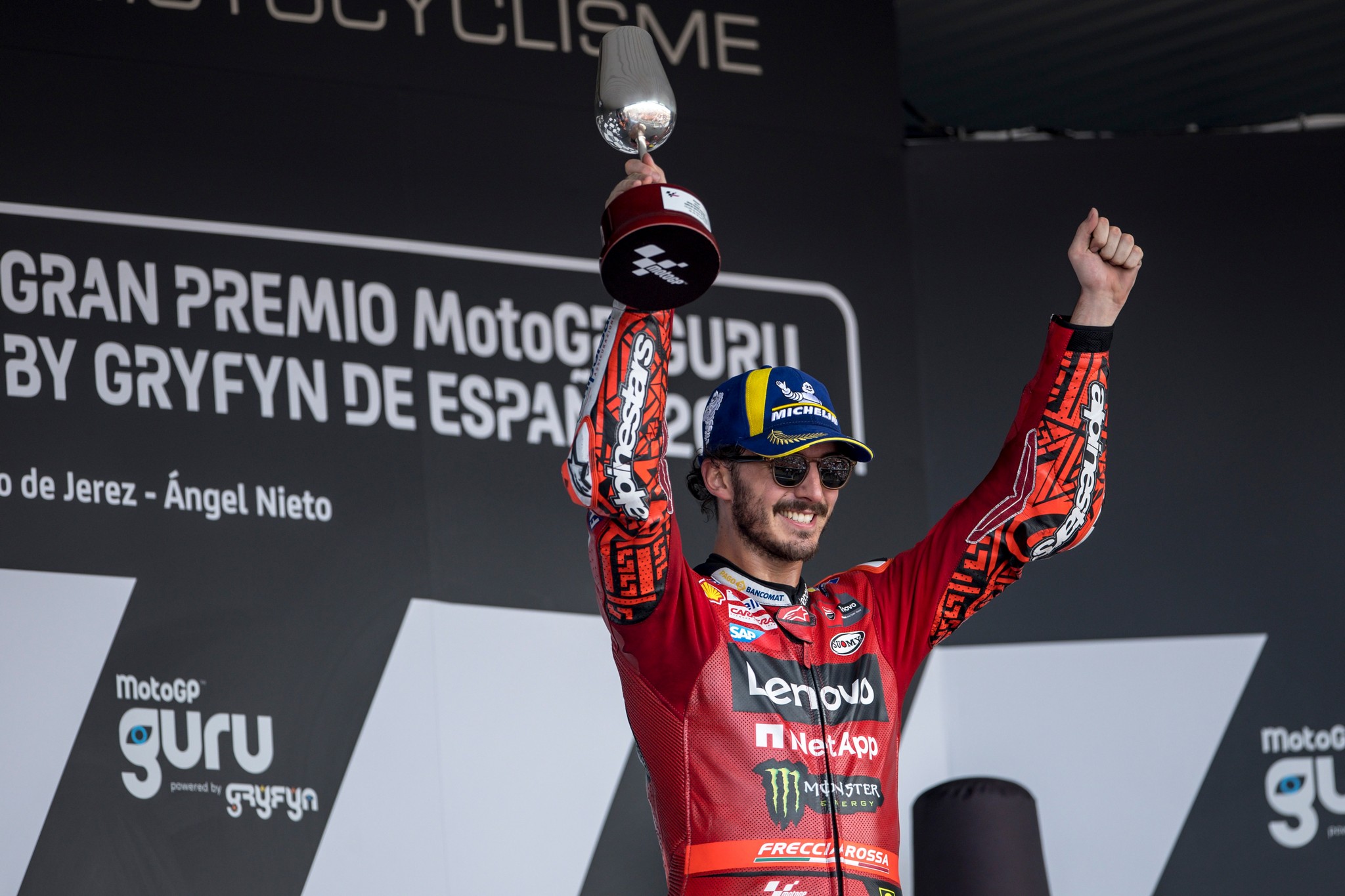 MotoGP-Weekend in Jerez
30.04.2023
Francesco Bagnaia performed well in today's Sprint race on a scorching day at the Circuito de Jerez Angel Nieto, stage this weekend of the MotoGP Spanish Grand Prix. The Ducati Lenovo Team rider took an excellent second place thanks to an overtaking manoeuvre on Jack Miller (KMT) on the last lap.

It's a significant result for Bagnaia and his team, who, after an uphill start, were able to turn around a weekend that until then had been quite complicated. After gaining access to Q2 by setting the fastest time in Q1, Pecco faced a second qualifying session disturbed by rain in some track areas. Despite this, the rider from Chivasso set an excellent fifth fastest time, getting the start from the second row for this afternoon's Sprint and tomorrow's Grand Prix race.

Even in the Sprint Race, there was no shortage of twists and turns as the race was immediately interrupted by the red flag following a crash. At the restart, Bagnaia quickly moved up to third position and launched the decisive attack for second place on the final lap. Thanks to today's result, Bagnaia remains second in the overall standings, -3 points behind fellow Ducati rider Marco Bezzecchi (VR46 Racing Team), while Ducati remains at the top of the Constructors' standings.

Enea Bastianini, after running five laps this morning in free practice, unfortunately, realized that he was not in the condition to race. Therefore, Enea and his team have decided to stop, and the rider from Rimini will try to return to the track at full strength at Le Mans.

Francesco Bagnaia (#1, Ducati Lenovo Team) - 2nd
"I am thrilled with my race today. During the night, my team really did an incredible job trying to put me in a position to have a good qualifying. In the beginning, I struggled to adapt to the bike, but after the second exit in Q1, I felt really comfortable, and in the race, I just tried to be fast. It wasn't easy: the third sector is still my weak point, but I'm sure we'll solve that for tomorrow as well."

Enea Bastianini (#23, Ducati Lenovo Team)
"I'm very sorry I had to retire. Yesterday I gritted my teeth, but this morning I realized I was not in the condition to ride and face the races with confidence. There was no point in taking unnecessary risks, so together with my team, we decided to stop. However, it was right to try it to understand my current level and how far I need to go to be competitive again."

Pecco Bagnaia took another extraordinary victory in the MotoGP Spanish GP, held this afternoon at the Circuito de Jerez - Angel Nieto. The Ducati Lenovo Team rider did an impeccable race at the Andalusian track, which led him to score his thirteenth success in MotoGP and his second of the season.

As had happened in yesterday's Sprint race, today's GP was interrupted shortly after the start due to a crash and restarted after a few minutes. Starting with the fifth fastest time, Pecco managed to move up to third immediately and subsequently overtook Jack Miller (KTM Factory Racing). But then he had to give up his position to the Australian rider due to a questionable race direction decision that deemed his overtaking manoeuvre unfair, even though there was no contact between the two riders.

However, Bagnaia maintained concentration and managed to catch Miller again and then reduce the gap to Brad Binder. With a few laps to go, the rider from Chivasso caught up with the South African rider, passing him with five laps to go. Thanks to today's success, Bagnaia returns to the top of the overall standings with a 22-point lead over fellow Ducati rider Bezzecchi (VR46 Racing Team). Ducati remains at the top of the constructors' standings, while the Ducati Lenovo Team is fourth in the teams' standings.

Francesco Bagnaia (#1, Ducati Lenovo Team) - 1st
"Considering how the weekend had started, this may be my best win in MotoGP. The tussle was really incredible, and I had a lot of fun. We learned a lot from this GP, and it can help us grow as a team. Friday was a difficult day, but my team did an incredible job of allowing me to regain a good feeling with the bike. They understood my requests well, and today, thanks to the latest changes on the Desmosedici GP, we were able to win. Doing it here was really special, given the great warmth of the fans, so I'm thrilled."

Luigi Dall'Igna (General Manager of Ducati Corse)
"All of Pecco's victories are beautiful, but this one is perhaps even more so! After the crashes in the last two GPs, we needed a race like this! We had a tough start to the week, but we turned things around together, taking one last step forward today that allowed us to compete in the race. I am very pleased with the work done by the whole team, and congratulations again to Pecco for handling today's race like a true champion."

The Ducati Lenovo Team will remain in Jerez to face a day of post-race official testing at the Andalusian track tomorrow.
Race results
| Pos. | Nr. | Driver | Team | Bike | Time |
| --- | --- | --- | --- | --- | --- |
| 1 | 1 | F. Bagnaia | | | 39:29.0850 |
| 2 | 33 | B. Binder | | | +0.221 |
| 3 | 43 | J. Miller | | | +1.119 |
| 4 | 89 | J. Martin | | | +1.942 |
| 5 | 41 | A. Espargaro | | | +4.760 |
| 6 | 10 | L. Marini | | | +6.329 |
| 7 | 26 | D. Pedrosa | | | +6.371 |
| 8 | 73 | A. Marquez | | | +14.952 |
| 9 | 30 | T. Nakagami | | | +15.692 |
| 10 | 20 | F. Quartararo | | | +15.846 |
| 11 | 21 | F. Morbidelli | | | +17.209 |
| 12 | 49 | F. Di Giannantonio | | | +17.911 |
| 13 | 37 | A. Fernandez | | | +19.010 |
| 14 | 6 | S. Bradl | HRC Team | | +27.294 |
| 15 | 25 | R. Fernandez | | | +36.371 |
| 16 | 27 | I. Lecuona | | | +36.753 |
| 17 | 94 | J. Folger | | | +47.146 |
| DNF | 12 | M. Viñales | | | |
| DNF | 72 | M. Bezzecchi | | | |
| DNF | 5 | J. Zarco | | | |
| DNF | 42 | A. Rins | | | |
| DNF | 36 | J. Mir | | | |
| DNF | 88 | M. Oliveira | | | |
Latest articles on Ducatista.org:
« Back