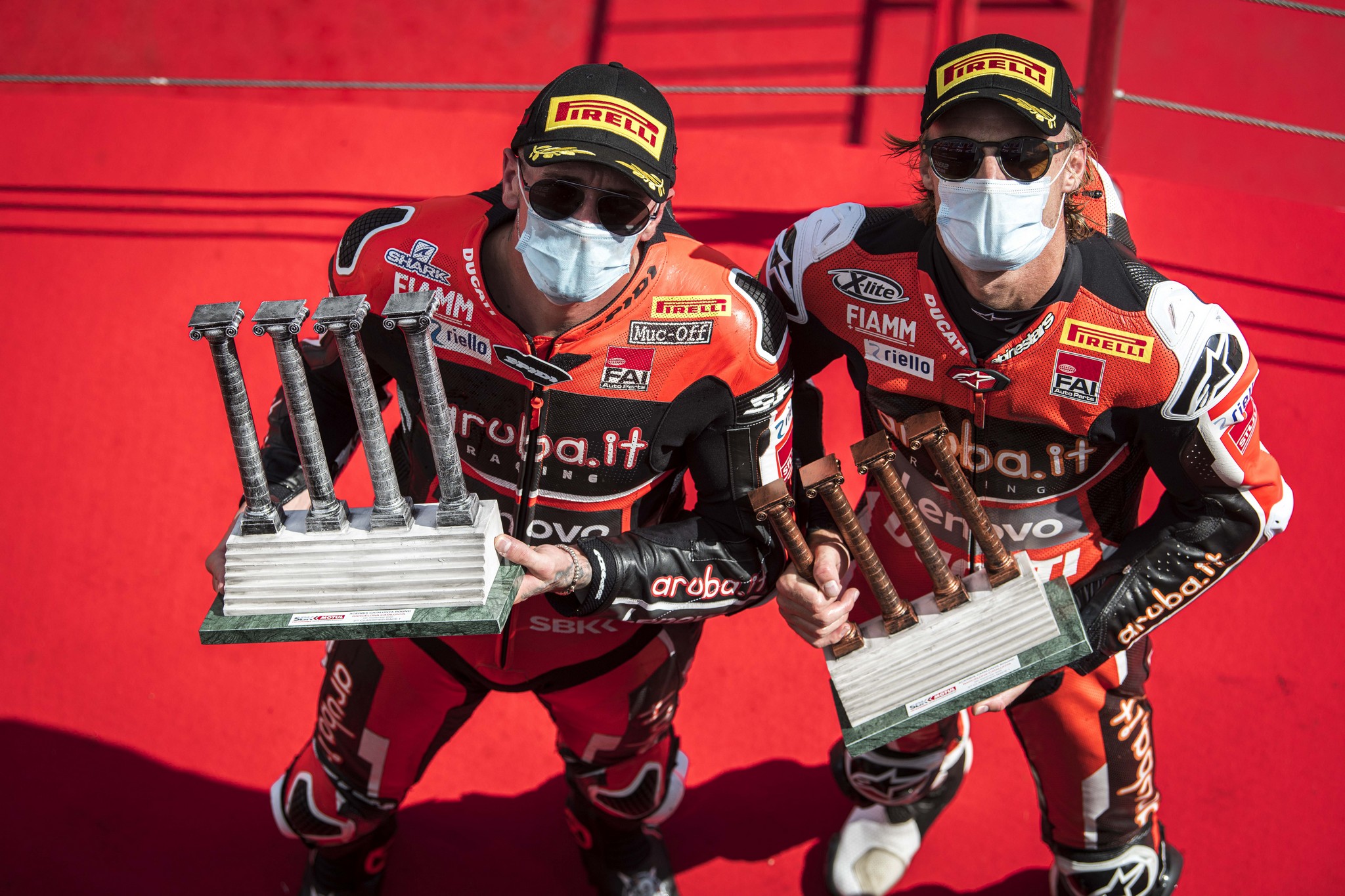 WSBK Race in Barcelona
20.09.2020
After a strong start from seventh place, Scott Redding was able to conquer the 3rd place. After a few laps he managed to overtake Rinaldi and was second for some laps. Due to an error of Redding, Rinaldi was able to attack and took second place. Towards the end of the race Rinaldi had to reduce his speed which allowed Redding to move up to second place.

Chaz Davies started from 11th place and constantly worked his way up to third place.
Race results
| Pos. | Nr. | Driver | Bike | Time-gap to Leader |
| --- | --- | --- | --- | --- |
| 1 | 1 | J. Rea | ZX-10RR | 34:34.245 |
| 2 | 45 | S. Redding | Panigale V4 R | 2.625 |
| 3 | 7 | C. Davies | Panigale V4 R | 4.459 |
| 4 | 60 | M. van der Mark | YZF R1 | 6.078 |
| 5 | 19 | A. Bautista | CBR1000RR-R | 6.989 |
| 6 | 54 | T. Razgatlioglu | YZF R1 | 8.770 |
| 7 | 21 | M. Rinaldi | Panigale V4 R | 11.676 |
| 8 | 31 | G. Gerloff | YZF R1 | 15.639 |
| 9 | 22 | A. Lowes | ZX-10RR | 18.128 |
| 10 | 91 | L. Haslam | CBR1000RR-R | 22.344 |
| 11 | 50 | E. Laverty | S1000 RR | 22.460 |
| 12 | 94 | J. Folger | YZF R1 | 22.934 |
| 13 | 12 | X. Fores | ZX-10RR | 25.428 |
| 14 | 76 | L. Baz | YZF R1 | 26.083 |
| 15 | 64 | F. Caricasulo | YZF R1 | 31.880 |
| 16 | 97 | S. Cavalieri | Panigale V4 R | 37.361 |
| 17 | 87 | L. Zanetti | Panigale V4 R | 40.668 |
| 18 | 20 | S. Barrier | Panigale V4 R | 48.001 |
| 19 | 13 | T. Takahashi | CBR1000RR-R | 55.793 |
| 20 | 53 | V. Debise | ZX-10RR | 1:02.531 |
| DNF | 66 | T. Sykes | S1000 RR | 14 Runden |
Latest articles on Ducatista.org:
« Back